Featured Research
We publish research articles in conferences and journals primarily in the field of computer science, but also in other fields including psychology, sociology, and medicine. See our blog for research highlights and our publications page for a comprehensive view of our research contributions. Here are excerpts from recent articles:
What Users of Couchsurfing and Airbnb Can Tell Us about Online Room Sharing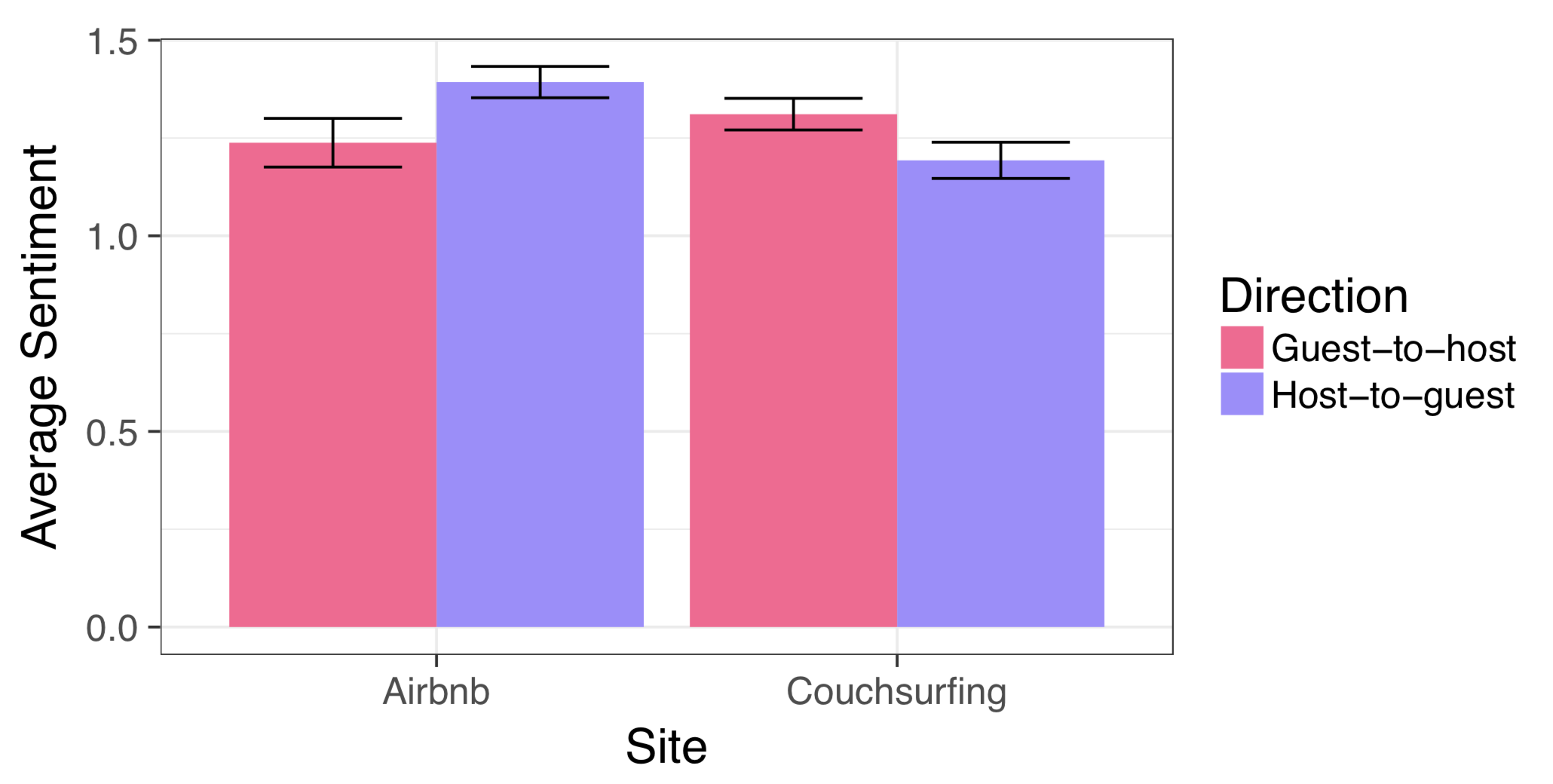 Couchsurfing and Airbnb are websites that connect people with an extra guest room or couch with random strangers on the Internet who are looking for a place to stay. Although Couchsurfing predates Airbnb by about five years, the two sites are designed to help people do the same basic thing and they work in extremely similar ways. They differ, however, in one crucial respect. On Couchsurfing, the exchange of money in return for hosting is explicitly banned. In other words, couchsurfing only supports the social exchange of hospitality. On Airbnb, users must use money: the website is a market on which people can buy and sell hospitality. See more
Enlisting Recovering Addicts as Tech Designers to Fight Relapse

Over 300,000 Americans have died from drug overdose in the last two decades, and that many will die from drug overdose over the next five years. Due to this dramatic increase in overdose deaths, the need for effective treatment is great. However, substance use disorders (SUDs), such as alcoholism and drug abuse, have been historically difficult to treat given their chronic cycles of treatment and relapse. As many as 75% of the individuals who complete professional treatment will relapse within one year. To improve treatment outcomes, new and supplemental approaches are needed. In our recent study, we explored if and how technology (e.g., smartphone apps) might supplement traditional treatment options and serve as an additional source of support for individuals in early recovery from SUDs. See more
Featured Projects
We build and study real systems, going back to the release of MovieLens in 1997. See our projects page for a full list of active projects; see below for some featured projects.
MovieLens is a web site that helps people find movies to watch. It has hundreds of thousands of registered users. We conduct online field experiments in MovieLens in the areas of automated content recommendation, recommendation interfaces, tagging-based recommenders and interfaces, member-maintained databases, and intelligent user interface design.
Find bike routes that match the way you ride. Share your cycling knowledge with the community. Cyclopath is a geowiki: an editable map where anyone can share notes about roads and trails, enter tags about special locations, and fix map problems – like missing trails. Hundreds of Twin Cities cyclists are already doing this, making Cyclopath the most comprehensive and up-to-date bicycle information resource in the world.
LensKit is an open source toolkit for building, researching, and studying recommender systems. Do you need a recommender for your next project? LensKit provides high-quality implementations of well-regarded collaborative filtering algorithms and is designed for integration into web applications and other similarly complex environments.