Featured Research
We publish research articles in conferences and journals primarily in the field of computer science, but also in other fields including psychology, sociology, and medicine. See our blog for research highlights and our publications page for a comprehensive view of our research contributions. Here are excerpts from recent articles:
SqueezeBands: Hugging Through the Screen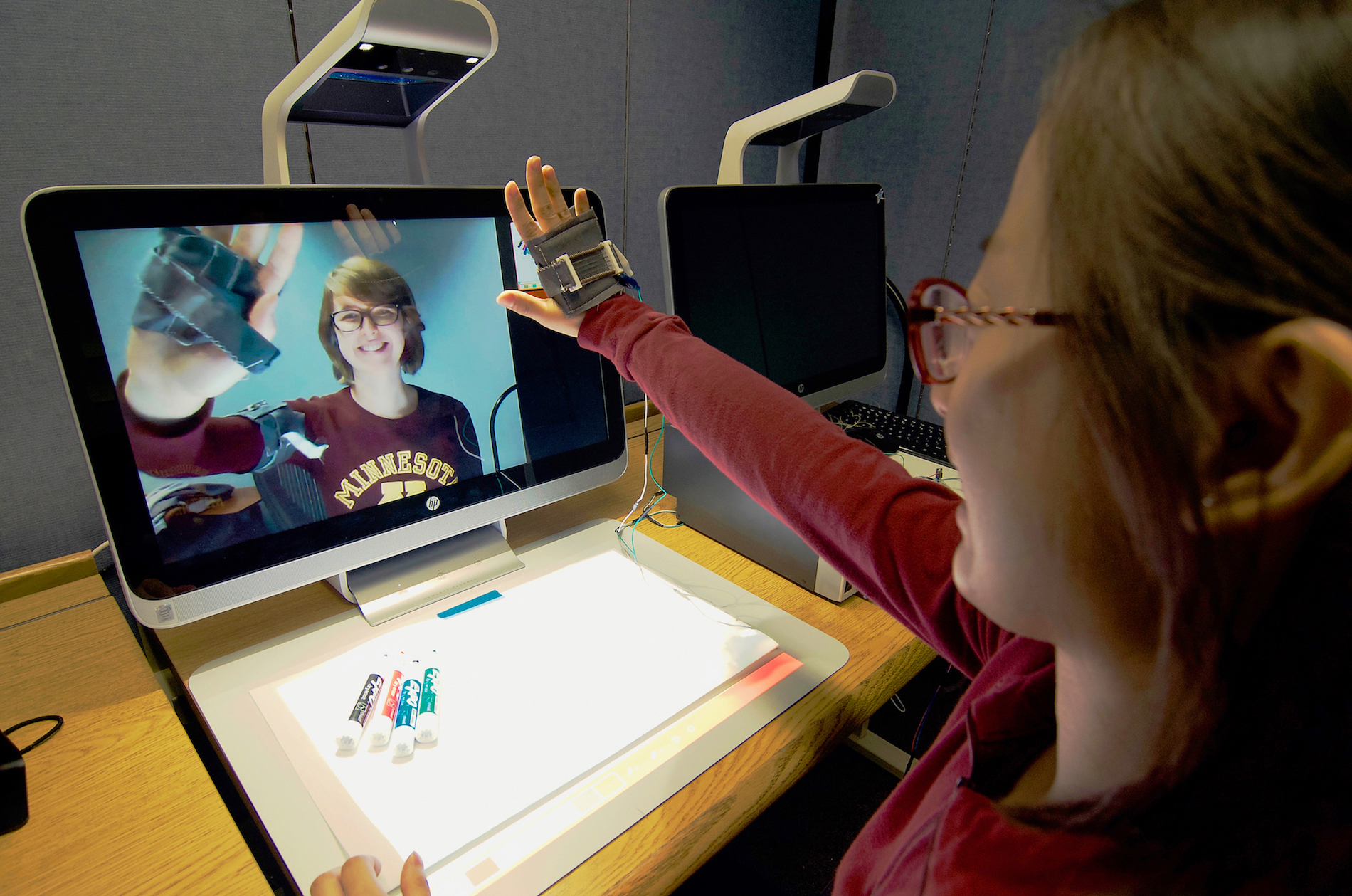 When I Skype with my family, I really wish that I could reach through the screen to give them a hug! Instead, we sometimes have to pretend—we lean forward "hugging" the monitor or bring our hands towards the camera to do a virtual "high five." What if you could actually feel some of that touch instead of just having to imagine it?
Read more.
Your feelings of connecting to a group can predict your future behavior
Maybe you've joined a group recently could be a Taekwondo group, a wine tasting club, a fantasy football league, or whatever. Do you know that how people felt "connected" to a group before they joined can predict their future behavior in the group? Social psychologists have identified two conceptually distinct ways a member can connect with a group — identity-based attachment (e.g., "I feel connected to the Taekwondo group because I started to learn Taekwondo when I was a kid!") and bonds-based attachment (e.g., "I feel connected to the wine tasting club because my best friend Daniel is a club member!") — and worked to understand their causes and consequences. What we have done is study how connections between a person and an online group can predict that person's future behavior.
Read more.
Featured Projects
We build and study real systems, going back to the release of MovieLens in 1997. See our projects page for a full list of active projects; see below for some featured projects.
MovieLens is a web site that helps people find movies to watch. It has hundreds of thousands of registered users. We conduct online field experiments in MovieLens in the areas of automated content recommendation, recommendation interfaces, tagging-based recommenders and interfaces, member-maintained databases, and intelligent user interface design.
Find bike routes that match the way you ride. Share your cycling knowledge with the community. Cyclopath is a geowiki: an editable map where anyone can share notes about roads and trails, enter tags about special locations, and fix map problems – like missing trails. Hundreds of Twin Cities cyclists are already doing this, making Cyclopath the most comprehensive and up-to-date bicycle information resource in the world.
LensKit is an open source toolkit for building, researching, and studying recommender systems. Do you need a recommender for your next project? LensKit provides high-quality implementations of well-regarded collaborative filtering algorithms and is designed for integration into web applications and other similarly complex environments.